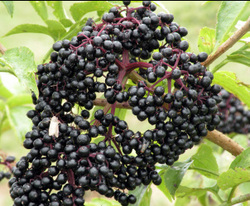 Herb of the Month


Elder
Latin binomial: Sambucus nigra

Description: Elder is a shrub to small tree with masses of creamy –yellow, umbrella-shaped, flowering parts and dark purple edible berries. Elder is considered a magical and holy tree by various cultures of western and northern Europe. She is truly ancient, and vestiges of her existence have been found at Stone Age sites. Celtic lore regards elder as the tree of regeneration, representing "death in life and life in death."

She is considered the tree of transformation, guardian of the thirteenth month of the Celtic tree calendar, which contains the end of the year, Samhain (Halloween) and the beginning of the New Year (All Soul's Day). There is so very much more to be said of Elder than space permits, and it would behoove anyone interested to learn more about her magical an d healing properties through humble respect and gentle openness to develop a working relationship with her.

Uses: Elder has been termed "the medicine chest of the country people." Her flowers, berries and leaves are all beneficial, including the music that emanates from pipes fashioned of her branches, and it is said that this music draws out wood elves from the far glades to heal the spirit. Elder's antiviral properties make it effective for relieving colds, flu and fevers. Her berries have been made into the well-known cough syrup for children, Sambucol.

The herb is also an excellent detoxifier and helps clear infections by supporting immune function. Herbalists have also recommended elder for hay fever and sinusitis. Extracts made from the ripe blue-black fruit of the elderberry can be a superb remedy for chronic rheumatism, neuralgia a nd sciatica. Elder flowers soaked in water and applied to the face can lighten freckles and cool sunburned skin; additionally cold elder blossom tea rejuvenates eye s strained by computer work, squinting in the sun and heavy reading. Bruised leaves were commonly used as an insect repellent. A salve made from her fresh flowers heals skin wounds, burns and chapped hands. The berries are rich in iron and can be mashed and mixed with honey for a quick, energy-enhancing spread.

Dosage: For colds and fever, take 2 to 3 cups of the infusion, 2-3 times daily to introduce sweating. Follow manufacturer's recommendations for berry syrups.

Note: ONLY harvest fresh Elderberry from non-polluted areas without pesticides.

Sources: Herbal Rituals (J. Berger), Herbal Remedies for Dummies (C. Hobbs), The Green Pharmacy (J. Duke)


Any remedies listed on this web site are from historical references and used for teaching purposes only. The contents are not meant to diagnose, treat, prescribe, or substitute consultation with a licensed health-care professional.

(Submitted by Donna Reynolds, Herbalist, AHG)

---
---
Herb of the Month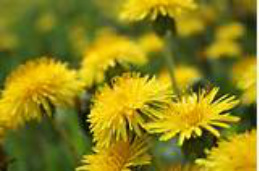 Dandelion
Latin binomial: Taraxacum officinale
Description:
Dandelion can be found in almost every lawn, much to a gardener's dismay. However, this hardy botanical is an excellent food plant with many medicinal properties. Dandelions can be distinguished by their solid yellow daisy-like, composite flowers perched on hollow, unbranched stalks and large-toothed, hairless leaves. When cut, the plant exudes a white, milky sap, or latex. The leaves form a rosette above a central taproot.
Uses:
A favorite with herbalists since ancient times, Dandelion root and leaf is well-known as a wonderful liver cleanser and cooler, and should be seriously considered for assistance with liver-related issues such as hepatitis, cirrhosis, liver toxicity, poor appetite and constipation. The leaves are a powerful potassium-sparing aquauretic that is non-irritating to the kidneys and can benefit water retention or to increase lactation. The bitter taste of the leaves is a wonderful digestive aid. The roots have been used for centuries to treat jaundice. The flowers are a great source of lecithin, which has been proven useful in various liver ailments. Steam the leaves and flowers like spinach and invite this healthy herb into your regular diet! Add it to pesto! I know I keep repeating this: See my "
Making Spring Pesto
" blog post.
Dosage:
Make a decoction by simmering 1 tablespoon of the leaf or root for every cup of water. Drink 1 cup, 2 to 3 times a day, or use 2 to 4 droppers-full of the tincture 1 to 3 times daily.
Caution:
Folks with bile duct blockage, gallbladder inflammation, or intestinal blockage should only use dandelion under the specific care of an experience herbalist.
Note:
ONLY harvest fresh Dandelion from non-polluted areas without pesticides.
Sources:
The Green Pharmacy, Herbal Remedies for Dummies, A Modern HerbalAny remedies listed on this web site are from historical references and used for teaching purposes only. The contents are not meant to diagnose, treat, prescribe, or substitute consultation with a licensed health-care professional.
---
---
Herb of the Month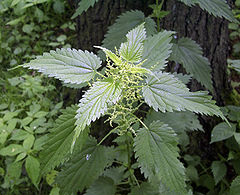 Stinging Nettles
Latin binomial: Urtica dioica

Description: Stinging nettles ~ the word 'nettle' is a derivative of the Anglo-Saxon word for needle ~ referring to the pin-prickling hairs that cover the leaves and stalks. Stinging nettles are a dioecious herbaceous perennial, growing to 1-2m tall in summer and dying down to the ground in winter. It has very distinctively yellow, widely spreading roots, rhizomes and stolons. The soft green leaves are borne oppositely on an erect wiry green stem. The leaves and stems are very hairy with non-stinging hairs AND ALSO bear many stinging hairs (trichomes), whose tips come off when touched, transforming the hair into a needle that will inject several chemicals: acetylcholine, histamine, 5-HT or serotonin, and possibly formic acid (think red ant sting!). This mixture of chemical compounds cause a stint or parethesia from which the species derives its common name, as well as the colloquial names: burn nettle, burn weed, burn hazel. This sting can last from as short as a few minutes to as long as a week.
---
Trichomes on stems of stinging nettles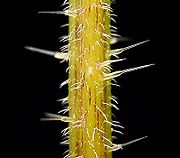 Uses:
As Old English Stide, nettle is one of the nine plants invoked in pagan Anglo-Saxon Nine herbs Charm, recorded in the 10th century. nettle is believed to be a galatagogue (stimulates milk production0 and a clinical trial has shown that the juice is diuretic in patients with congestive heart failure. "Urtication", or flogging with nettles, is the process of deliberately applying stinging nettles to the skin in order to provoke inflammation. An agent thus used is known as a rubefacient (ie: something that causes rednes). This is done as a folk remedy for rheumatism, as it provides temporary relief from pain. Extracts can be used to treat arthritis, anemia, hay fever, kidney problems, and pain. Nettle leaf is an herb that has a long tradition of use as an adjunct remedy in the treatment of arthritis in Germany. Nettle leaf extract contains active compounds that reduce TNF- and other inflammatory cytokines.
Nettle is used in hair shampoos to control dandruff, and is said to make hair more glossy, which is why some farmers include a handful of nettles with cattle feed. It is also thought that nettles can ease eczema. Fresh nettle is used in folk remedies to stop all types of bleeding, due to its high Vitamin K content. Meanwhile, when the herb is dried, the Vitamin K is practically non-existent. Cooking, crushing or chopping disables the stinging hairs. Stinging nettle leaves are high in nutrients, and the leaves can be mixed with other ingredients to create a soup rich in calcium and iron. Some say that nettles has the most chlorophyll of any plant on the planet. Nettle soup is a good source of nutrients for people who lack meat or fruit in their diets. The young leaves are edible and make a very good pot-herb. The leaves are also dried and may then be used to make a tisane, as can also be done with nettle's flowers.
Sources: Identifying and Harvesting Edible and Medicinal Plants in Wild (and Not So Wild) Places (Steve Brill); Plants For A Future website; The Green Pharmacy (J. Duke); herbal Rituals (J. Berger); Wikipedia.
NOTE: Include nettles and other wild greens in a yummy 'yard pesto' recipe, visit my blog post at: www.willowmoonherbals.blogspot.com/2012_03_01.archive.html
Note: Any remedies listed on this web site are from historical references and used for teaching purposes only. The contents are not meant to diagnose, treat, prescribe, or substitute consultation with a licensed health-care professional.
(Submitted by Donna Reynolds)
---
---
Garlic Mustard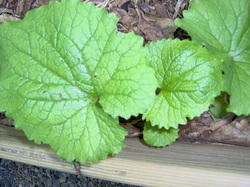 Latin binomial:
Alliaria petiolata (M. Bieb.) Cavara & Grande.
Description:
Garlic mustard ~ also called hedge garlic, sauce-alone, jack-by-the-hedge, poor man's mustard, jack-in-the-bush, garlic root, garlicwort, and mustard root ~ defends itself from insects by smelling like garlic. It is on the USDA's National Invasive Species Information Center and is classified as an invasive, noxious weed in many states since it crowds out native plants. A biennial herb, its heart-shaped leaves give off an aroma of garlic when crushed. Typical of the mustard family, the flowers are four-petaled and cross shaped. This plant is allelopathic, meaning that it secretes a toxin that is not tolerated by other plants, and thus they will not grow well near it ~ similar to black walnut and eucalyptus trees.
Uses:
A member of the Brassicaceae family, garlic mustard is used as food and for medicinal purposes. The leaves, flowers and fruit/seeds are edible as food, and are best when young. They have a mild flavor of both garlic and mustard, and are used in salads, pesto and sautes. Garlic mustard has been little used in herbal medicine, although traditionally the leaves have been taken internally to promote sweating and to treat bronchitis, asthma and eczema. Externally, they have been used as an antiseptic poultice on ulcers, etc., and are effective in relieving the itching caused by bites and stings. The leaves and stems are harvested before the plant comes into flower and they can be dried for later use.
Sources: Identifying and Harvesting Edible and Medicinal Plants in Wild (and Not So Wild) Places (Steve Brill); Plants For A Future website.
NOTE: For a yummy 'yard pesto' recipe, visit my blog post at: www.willowmoonherbals.blogspot.com/2012_03_01.archive.html
---
---
Eastern White Pine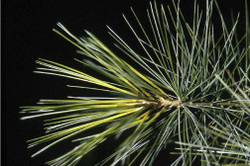 Latin binomial: Pinus strobus

Description: The Eastern White Pine has the distinction of being the tallest tree in eastern North America. In the 1700's, Ben Franklin visited the intertribal leadership group called the Iroquois Confederacy ~ and advocated the adoption of some of their peace-based traditions as the basis of the US Constitution. The Iroquois Confederacy consisted of five indigenous tribes coming together to unite rather than make war. The story tells of a great Peacekeeper who appeared and encouraged unity among the Five original tribes under the Great Law of Peace. He unearthed the "tree of long leaves" ~ white pine ~ and one by one the leaders from each tribe threw their weapons into the hole so that ground water could wash away the blood of death and desire for destruction that they contained. The Peacekeeper replanted the tree and taught the people to meet under its protection. They observed that white pine grew its leaves in clusters of five, each of the five needles representing the five nations of the confederacy. The branches all joined to one trunk rooted firmly in the earth and reached toward the sky. The Peacemaker placed an eagle atop the pine to gift the chiefs of the tribes with far vision for approaching danger and to see the larger picture of life. The pine has four roots one growing in each direction of north, east, south and west. To return to inner peace one need only sit under this graceful tree and pull one's energy back into the center from all directions ~ thus the white pine is known as the "Tree of Peace".

---
Uses:

While there are too many to list here, White pine is astringent, antiseptic, is

an anodyne, an expectorant and analgesic. As a tea, the needles are one of nature's

richest sources of Vitamin C: use to soothe coughs and ward off colds and flu; the

sap is useful for sores, scratches, wounds, boils, ulcers, blisters. It draws out splinters, stys, and pimples, and can soothe burns, hemorrhoids, and itchy bites. You might even try it on poison ivy! Take a moment to get to know this wonderfully healing local botanical and breathe in the calming scent of pine. You'll be glad you did!

Dosage:

Make a light decoction by simmering chopped pine needles in a small saucepan covered with water for 10 min, then steep for 15 mins. Drink1 cup, 1-3 times daily.

Sources: Herbal Rituals, A Modern Herbal, www.susunweed.com
---
Elder, Elderberry

Latin binomial: Sambucus nigra

Description: Elder is a shrub to small tree with masses of creamy –yellow, umbrella-shaped, flowering parts and dark purple edible berries. Elder is considered a magical and holy tree by various cultures of western and northern Europe. She is truly ancient, and vestiges of her existence have been found at Stone Age sites. Celtic lore regards elder as the tree of regeneration, representing "death in life and life in death." She is considered the tree of transformation, guardian of the thirteenth month of the Celtic tree calendar, which contains the end of the year, Samhain (Halloween) and the beginning of the New Year (All Soul's Day). There is so very much more to be said of Elder than space permits, and it would behoove anyone interested to learn more about her magical and healing properties through humble respect and gentle openness to develop a working relationship with her.


Uses: Elder has been termed "the medicine chest of the country people." Her flowers, berries and leaves are all beneficial, including the music that emanates from pipes fashioned of her branches, and it is said that this music draws out wood elves from the far glades to heal the spirit. Elder's antiviral properties make it effective for relieving
colds, flu and fevers. Her berries have been made into the well-known cough syrup for children, Sambucol. The herb is also an excellent detoxifier and helps clear infections by supporting immune function. Herbalists have also recommended elder for hay fever and sinusitis. Extracts made from the ripe blue-black fruit of the elderberry can be a superb remedy for chronic rheumatism, neuralgia and sciatica. Elder flowers soaked in water and applied to the face can lighten freckles and cool sunburned skin; additionally cold elder blossom tea rejuvenates eyes strained by computer work, squinting in the sun and heavy reading. Bruised leaves were commonly used as an insect repellent. A salve made from her fresh flowers heals skin wounds, burns and chapped hands. The berries are rich in iron and can be mashed and mixed with honey for a quick, energy-enhancing spread.

Dosage: For colds and fever, take 2 to 3 cups of the infusion, 2-3 times daily to introduce sweating. Follow manufacturer's recommendations for berry syrups.

Sources: Herbal Rituals (J. Berger), Herbal Remedies for Dummies (C. Hobbs), The Green Pharmacy (J. Duke)
---
Thyme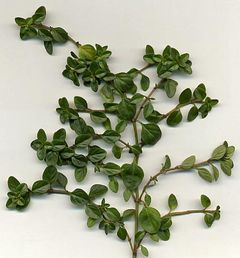 Latin binomial: Thymus vulgaris, L.

Description: Thyme is a perennial mint-family plant that is
aromatic and low-growing, often forming dense mats. The leaves
are small, only about 1/8 inch long and 1/16 inch broad, narrow and elliptical, greenish-grey in color. Thyme has an agreeable aromatic smell and a warm pungent taste. The fragrance of its leaves is due to an essential oil, which gives it its flavoring value for culinary purposes, and is also the source of its medicinal properties. It is in flower from May to August.

History: Ancient Egyptians used thyme in embalming. The ancient Greeks used it in their baths
and burnt it as incense in their temples, believing that thyme was a source of courage. It was thought that the spread of thyme throughout Europe was thanks to the Romans, as they used it to purify their rooms and to "give an aromatic flavor to cheese" and liqueurs.

Uses: Thyme is used most widely in cooking and provides lots of iron. Thyme is a basic ingredient in French, Greek, Italian, Lebanese, Persian, Spanish, Syrian, Turkish, Arab and Caribbean
cuisines. The essential oil of Thyme is made up of 20-55% thymol, which has antiseptic properties
and is the main active ingredient in Listerine mouthwash. Before the advent of modern antibiotics, it was used to medicate bandages. It has also been shown to be effective against the fungus that commonly infects toenails. A tea made by infusing the herb in water can be used for cough and bronchitis. Medicinally, Thyme is used for respiratory infections in the form of a tincture, tisane, salve, syrup or by steam inhalation. Consider a strong cup of antiseptic Thyme tea to help eliminate coughs, mucus congestion, or sore throat from cold or flu, and is beneficial for bronchitis or pneumonia.

Dosage: Make an infusion with 1 teaspoon of the dried herb or 1 tablespoon of the chopped fresh
herb for every cup of water, steeped for 15 or 20 minutes.

Sources: The Green Pharmacy, Herbal Remedies for Dummies, A Modern Herbal


---
---
Note: Any remedies listed on this web site are from historical references and used for teaching purposes only. The contents are not meant to diagnose, treat, prescribe, or substitute consultation with a licensed health-care professional.