In this groundbreaking, major work on intuition, well-being, and brain science, Dr. Mona Lisa Schulz reveals innovative, fresh, and exciting ways to tap into intuitions that have the power to improve your health and save your life.
Like
Spontaneous Healing
and
Anatomy of the Spirit
, this book gives new insights into the intimate connections between the mind, body, and emotions. Like
The Man Who Mistook His Wife for a Hat
, it provides astonishing new perspectives on what science has uncovered about the powers of the mind and cellular memories. Dr. Schulz relates how her clients have used intuition to gain insight into the underlying meaning of their life challenges, stories that will inspire you to learn your own body's unique perceptive language. By learning to read your sensations, memories, and the signals of distress and disease, you can strengthen your mind-body consciousness and empower yourself to create a healthier, happier life.
Review from
www.barnesandnoble.com
---
---
Harvard-trained theologian Meggan Watterson marched out of her church at age ten. With little-girl clarity, she knew something tremendously crucial was missing…the voices of women.
Watterson became a theologian and a pilgrim to the divine feminine to find the missing stories and images of women's spiritual voices. She knew women's voices had never been silenced, just buried. But what she truly sought was her own spiritual voice inside her—the one veiled beneath years of self-doubt.
At a sacred site of the Black Madonna in Europe, Watterson had a revelation that changed her. Rather than transcending the body, denying or ignoring it, being spiritual for her meant accepting her body as sacred. Only then, Watterson realized could she hear the voice of unfaltering love inside her- the voice of her soul.
With passion, humor, and brutal honesty, Watterson draws on ancient stories and lesser-known texts of the divine feminine, like The Gospel of Mary Magdalene, making them modern and accessible to reveal the spiritual process she went through. She suggests that being spiritual is simply about stripping down to the truth of who we really are.
Through her extensive work with women, Watterson found that she was not alone. There are countless women who long for a spirituality that encourages embodiment rather than denies it, that inspires them to abandon their fears but never themselves, and to be led by the audacious and fiercely loving voice of truth inside them.
No matter where you rest on the spectrum of spirituality; religious or secular, devout believer or chronic doubter, freelance mystic or borderline agnostic, this story is about the desire in all of us to want to shed everything that holds us back.
Reveal
provides what religions have left out—the spiritual voice of a woman who has claimed her body as sacred—a woman who has found the divine insider her. In essence, this is a manual for revealing your soul.
"I have spent the majority of my life gathering stories of the divine feminine. Each time before getting my masters degrees in theology and divinity, I went on a pilgrimage to sacred sites of the divine feminine throughout Europe. The first one was with a group and the second was on my own…
The stories of the divine feminine, of Christianity's Mary Magdalene, Catholicism's Black Madonna, Hinduism's Kali ma, and Buddhism's Green Tara for example, allowed me to begin to see that I wasn't as much of a spiritual misfit as I had thought. There was a red thread that became visible to me that ran through so many of the world religions, especially through their mystics, relating that the way to find the divine is to go within. And, that our potential to be transformed by going inward is exactly the same whether we are a man or a woman. The real barometer of our spiritual potential is not our sex, but the commitment of our desire to want to encounter the divine."
Excerpt from
Reveal.
Review from
www.barnesandnoble.com
---
---
"
The Sun Is Snowing: Poems, Parables and Pictures
" is the second edition of C. JoyBell C.'s very first published work, "The Sun Is Snowing: Poetry and Prose", which has been revered by many as "A masterpiece!"
It has also been said to be "The key of the angels," "Profound," and "Very human."This second edition keeps the legacy of the first book by holding onto all the favored original writings while featuring expressive, beautiful photography by various international photographers, as well as those taken by the author herself! But more than holding onto the old ways, in this new edition she introduces well-kept secrets by unfolding her own unheard-of philosophies, never-before-seen writings, and some new poetry!
Overflowing with food for the soul, "The Sun Is Snowing: Poems, Parables and Pictures" is an essential relative to your C. JoyBell C. collection of books, or to any collection of inspirational, philosophical, enigmatic writings!
The author says, "I wrote this book so I could have a sort of seashell into the Heavens. I used to hold seashells up to my ears and listen to the echoes of the ocean waves inside of them; in that same sense, I wanted to create an echo of angels' voices, not necessarily for everyone else out there, but primarily for me to return to over and over again! But of course I want to share that seashell, I want to tell people to hold that shell up to their ears and listen to its echo!"
Review from
www.barnesandnoble.com
---
---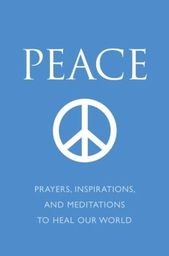 Peace
stimulates reflection and to inspire discussion at work, at home, and among friends about the meaning of peace—personally, spiritually, and politically.This inspirational title makes a great gift for anyone seeking to bring a sense of harmony to a family member, friend, or special person in their life. An affordable and simple gesture, this encouraging title adds a little meaning to any gift or occasion...and is impossible to resist.
What is peace? What is its purpose, spiritually, emotionally, and globally?
Peace
seeks to ground this concept in its cultural contexts and explore it through the thoughts and words of humanity's greatest peacemakers. Peace is the cornerstone of civilization, allowing all nations to grow and thrive while enabling individuals to learn and develop together. There is no goal more desirable, and many great men and women have given their lives in its pursuit.
Peace
encapsulates their collected wisdom through quotes, prayers, and thoughtful meditations on the subject of unity.
Simple and accessible for all ages, this book is fun to pick up at any spare moment, or read aloud and share with family and friends.
Rich with meaningful advice and quotes, each chapter also features easy ways to promote peace towards those around you. These stories of hope in difficult times will be an inspiration to many.
Words spoken in favor of peace are amongst the most powerful sentiments ever expressed by man.
Peace
captures and applies this meaning to provide inspiration and practical guidance towards leading a life of unity and harmony. Featuring inspiring quotes, moving prayers, and helpful guidelines
Peace
provides words of wisdom joined with practical applications.
This approach of joining the abstract and the concrete, the idealistic and the practical, makes
Peace
a book that is not just about peace; it is itself a tool for the promotion of harmony and unity in our lives, in our selves, and in our world.
Review from
www.barnesandnoble.com
---
---
The Simple Abundance Journal of Gratitude.
With the grace of Anne Morrow Lindbergh's
Gift from the Sea
and the wisdom of M. Scott Peck's
The Road Less Traveled
,
Simple Abundance
is a book of 366 evocative essays-one for every day of your year-written for women who wish to live by their own lights. In the past a woman's spirituality has been separated from her lifestyle.
Simple Abundance
shows you how your daily life can be an expression of your authentic self ... as you choose the tastiest vegetables from your garden, search for treasures at flea markets, establish a sacred space in your home for meditation, and follow the rhythm of the seasons and the year. Here, for the first time, the mystical alchemy of style and Spirit is celebrated. Every day, your own true path leads you to a happier, more fulfilling and contented way of life-the state of grace known as... Embrace its gentle lessons, savor its sublime common sense, dare to live its passionate truth, and share its extraordinary and exhilarating gift with every woman you encounter: the authentic self is the Soul made visible.
This companion volume to the bestseller
Simple Abundance
provides the perfect journal to help you record -- and discover -- what you value most. In these pages, your own inner truth will emerge, visible perhaps for the first time.
Review from
www.barnesandnoble.com
---
---
The Journey Home
A newly published book, entitled The Journey Home, is our featured book selection this month. Here is an overview of the book, written by local author, Tracey, who publishes using the pen name Leigh La Mura:

Since I was a child, I've been communicating with the angelic realm. They've revealed their presence in many ways, warning me through dreams of events to come and guiding my footsteps along the way. As I grew older, I learned that I could "tune in" to their frequency, allowing me to receive their messages more clearly. Their presence led me on a journey to self-discovery, allowing me to recognize and break repetitive and harmful patterns, to trust in myself again, and to discover my soul's purpose as a healer. It is a story of inner strength and faith, and as I continue on my journey, I know that I am not alone, and that the angels walk with me.



---
---
Traveling at the Speed of LOVE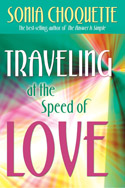 September 2012s book selection, TRAVELING at the Speed of LOVE is a timely read by world-renowned author, Sonia Choquette. From the book jacket: When we travel at the speed of love, we choose to live in a frequency of unconditional love. Today, most of us travel at the frequency of fear and exist in a victim consciousness. When we're moving at that level, we can never get to our destination, no matter how fast we go. The victim consciousness is based on the premise: "I have no choice." Traveling at the speed of love means takng our power back. We're actually in a different universe when we choose to journey in this way. Our world isn't a menacing, threatening race geared to cheat death. Rather, it becomes so satisfying that if this were actually our last moment on Earth, that would be ok. This is not to say that change is easy. To travel at the speed of love might require a complete paradigm shift in the way one looks at everyday existence. In this fascinating book, Sonia Choquette provides a practical, in-the-trenches guide that will reveal how you can reprogram your brain and change your life for the better.

Ask yourself this question: What frequency am I traveling on right now?


---
---
Nourishing Traditions: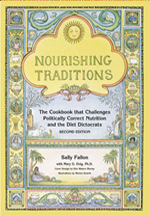 October 2012's book selection is "Nourishing Traditions: The Cookbook that Challenges Politically Correct Nutrition and the Diet Dictocrats" by Sally Fallon.

From the back cover:

The Diet Dictocrats don't want you to know that:
- Your body needs old-fashioned animal fats
- New-fangled polyunsaturated oils can be bad for you
- Modern whole grain products can cause health problems
- Traditional sauces promote digestion and assimilation
- Modern food precessing denatures our foods bu
- Ancient preservation methods actually increase nutrients in fruits, nuts, vegetables, meats and milk products!

At last, a successful challenge to Politically Correct Nutrition and the Diet Dictocrats!

Recalling the culinary customs of our ancestors and looking ahead to a future of robust good health for young and old, Nourishing Traditions offers modern families a facinating guide to wise food choices and proper preparation techniques. Nutrition researcher Sally Fallon unites the wisdom of the ancients with the latest independent and accurate scientific research. The revised and updated Second Edition contains over 700 delicious recipes that will please both exacting gourmets and busy parents.


---
---
The Four Agreements:

November's book selection is "The Four Agreements: A Practical Guide to Personal Freedom (A Toltec Wisdom Book) by Don Miquel Ruiz. From the back cover:

In the four Agreements, Don Miguel Ruiz reveals the source of self-limiting beliefs that rob us of joy and create needless suffering. Based on ancient Toltec wisdom, the Four Agreements offer a powerful code of conduct that can rapidly transform our lives to a new experience of freedom, true happiness, and love.


---
---
Who Moved My Cheese?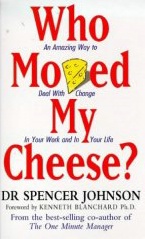 December's book selection is Who Moved My Cheese? An Amazing Way to Deal with Change in Your Work and in Your Life, published in 1998, is a motivational book by Spencer Johnson written in the style of a parable or business fable. It describes change in one's work and life, and four typical reactions to said change by two mice and two "littlepeople", during their hunt for cheese. A New York Times business bestseller since release, Who Moved My Cheese? remained on the list for almost five years and spent over 200 weeks on Publishers Weekly's hardcover nonfiction list. It has sold more than 26 million copies worldwide in 37 languages and remains to be one of the best-selling business books self-limiting beliefs that rob us of joy and create needless suffering. Based on ancient Toltec wisdom, the Four Agreements offer a powerful code of conduct that can rapidly transform our lives to a new experience of freedom, true happiness, and love.
---
---
Don't Sweat the Small Stuff...

January 2013's book selection is Don't Sweat the Small Stuff..... and it is all small stuff is a book that shows you how to keep from letting the small things in life drive you crazy. In thoughtful and insightful language, author Dr. Richard Carlson, Ph. D. reveals ways to calm down in the midst of your incredibly hurried, stress-filled life. You can learn to put things in perspective by making the small daily changes he suggests, including advice such as "Think of your problems as potential teachers"; Remember that when you die, your "In" box won't be empty"; and "Do one thing at at time." You should also try to live in the present moment, let others have the glory at times, and lower your tolerance to stress. You can write down your most stubborn positions and see if you can soften them, learn to trust your intuitions, and live each day as if it might be your last. with gentle, supportive suggestions, Dr. Carlson reveals ways to make your actions more peaceful and caring, with add benefit of making your life more calm and stress-free.
---
---
Journey to the Heart

February's book selection is Journey to the Heart. Writing with the same warmth, honesty and compassion that has attracted such a loyal following, author Melody Beattie now charts a new path toward spiritual growth and renewal. in 365 insightful and delightfully warm daily reflections, Journey to the Heart will comfort and inspire us as we begin to discover our true purpose in the world and learn to connect even more deeply with ourselves, the creative force, and the magic and mystery in the world around and within us.
---
---
The Five People You Meet in Heaven

March's book selection is The Five People You Meet in Heaven. From the book jacket:

From the author of the number one New York Times bestseller Tuesdays with Morrie comes this long-awaited follow-up, an enchanting, beautifully crafted novel that explores a mystery only heaven can unfold.

Eddie is a grizzled war veteran who feels trapped in a meaningless life of fixing rides at a seaside amusement park. As the park has changed over the years - from the Loop-the-Loop to the Pipeline Plunge - so, too, has Eddie changed, from optimistic youth to embittered old age. His days are a dull routine of work, loneliness, and regret.

Then, on his 83rd birthday, Eddie dies in a tragic accident, trying to save a little girl from a falling cart. With his final breath, he feels two small hands in his - and then nothing. He awakens in the afterlife, where he learns that heaven is not a lush Garden of Eden, but a place where your earthly life is explained to you by five people who were in it. These people may have been loved ones or distant strangers. yet each of them changed your path forever.

One by one, Eddie's five people illuminate the unseen connections of his earthly life. As the story builds to its stunning conclusion. Eddie desperately seeks redemption in the still-unknown last act of his life: Was it a heroic success or a devastating failure? The answer, which comes from the most unlikely of sources, is an inspirational as a glimpse of heaven itself.

In The Five People You Meet in Heaven, Mitch Albom gives us an astoundingly original story that will change everything you've ever thought about the afterlife - and the meaning of our lives here on earth. With a timeless tale, appealing to all, this is a book that readers of fine fiction, and those who loved Tuesdays with Morrie, will treasure.
---
I Am the Word

April's book selection is I Am the Word: A Guide to the Consciousness of Man's Self in a Transitioning Time, a channeled book by Paul Selig.

The channeled Guides of I Am the Word provide a concise and immensely powerful program in self-awareness that can ease negative complexes and align your existence with its highest purpose.

Humanity has lost itself. Both as individuals and as a world culture, we have forgotten our true nature. In I Am the Word, writer and medium Paul Selig has recorded an extraordinary program for self- realization, as dispensed through beings of higher intelligence, sometimes called Guides or Ascended Masters. These figures seek, as they have in the past, to assist men and women in discovering the higher, purposeful nature-or "Christed Self"-that lies dormant within us all.

In a series of enticing, irresistibly practical dialogues, the Guides of I Am the Word identify the emotional "boulders" that displace our authentic selves and consume our potential. The Guides provide to-the-point psychological and existential insights, along with self-developing exercises and affirmations, which begin to strip away residues of fear, self-doubt, and self-suffocatinghabits.

---
---
Many Lives, Many Masters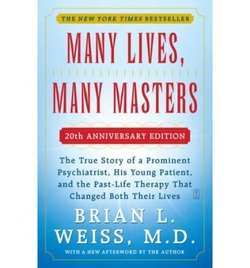 May's book selection is Many Lives, Many Masters by Brian Weiss.

From the back cover: "Dr. Brian Weiss was astonished and skeptical when one of his patients began recalling past-life traumas that seemed to hold the key to her recurring nightmares and anxiety attacks. His skepticism was eroded, however, when she began to channel messages from the "space between lives", which contained remarkable revelations about Dr. Weiss' family and his dead son. Using past-life therapy, he was able to cure the patient and embark on a new, more meaningful phase of his own career."

"This is a thought-provoking, beautifully written book breaks through the barriers of conventional psychotherapy and presents an innovative and highly effective treatment. It should be taken seriously by those in the mental health profession." - Edith Fiore, Ph. D., clinical psychologist and author of You Have Been Here Before.
---
---
Wishes Fulfilled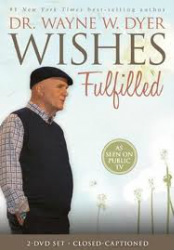 June's book selection is
Wishes Fulfilled: Mastering the Art of Manifesting
. Wayne Dyer is an internationally known author and speaker in the field of self-development. He is the author of more than 30 books, has created numerous audio programs and videos, and has appeared on thousands of television and radio programs. After writing books on the Prayer of St. Francis and the teachings of Lao Tzu, Dyer shifted gears and knew it was time to move beyond the intellect to give a rounded and inspiring teaching on the Divine spark of "I am that I am" that exists in all of us. When this is cultivated and nourished, it can lead to miracle-making.
The key to tapping into this endless energy source is changing your concept of self. Dyer shares his admiration for his mentor Neville Goddard, a popular speaker on metaphysical themes from the 50s until his death in 1972. Both emphasize the importance of realizing that we come from a Source that is birthless, deathless, and changeless. To bolster that feeling, Dyer suggests repeating the affirmations: "
I am all-knowing, I am all-powerful, I am unlimited
."
Reviewed by
SpiritualityandPractice.com
---
---
Awakening The Buddha Within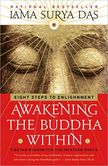 Lama Surya Das, the most highly trained American lama in the Tibetan tradition, presents the definitive book on Western Buddhism for the modern-day spiritual seeker. The radical and compelling message of Buddhism tells us that each of us has the wisdom, awareness, love, and power of the Buddha within; yet most of us are too often like sleeping Buddhas. In
Awakening the Buddha Within,
Surya Das shows how we can awaken to who we really are in order to lead a more compassionate, enlightened, and balanced life. It illuminates the guidelines and key principles embodied in the noble
Eight-Fold Path and the traditional Three Enlightenment Trainings common to all schools of Buddhism:
Wisdom Training: Developing clear vision, insight, and inner understanding — seeing reality and ourselves as we really
are. Ethics Training: Cultivating virtue, self-discipline, and compassion in what we say and do. Meditation Training: Practicing mindfulness, concentration, and awareness of the present moment.
Review from
www.barnesandnoble.com
---
Pay It Forward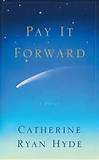 Catherine Ryan Hyde's international sensation,
Pay It Forward,
is the moving story of Trevor McKinney, a twelve-year-old boy who accepts his social studies teacher's challenge to come up with a plan to change the world.
Trevor's idea is simple: Do a good deed for three people and ask them to "pay it forward" to three others who need help. He envisions a vast movement of kindness and goodwill spreading beyond his small California town and across the world. However, when Jerry, a bum to whom Trevor gave his allowance, returns to a life of dissolution, the project seems valuable only as a lesson on the dark side of human nature. But ultimately Trevor is vindicated. At first people don't know how to explain the odd dip in crime rates across the nation, but a journalist with a story of his own tracks down the source of the epidemic of random acts of kindness and makes Trevor a celebrity.
Yet Trevor has problems closer to home: he wants his pretty, hardworking mother to see the softer side of his beloved teacher, Reuben St. Clair, a scarred Vietnam veteran who seems to come alive only when he's in front of his class.
Anyone who has ever despaired of one person's ability to effect change will rejoice in Trevor's courage and his determination to see the good in everyone.
Review from
www.barnesandnoble.com
---
---
The Power of Your Spirit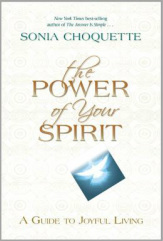 Losing our connection with Spirit may be the biggest problem we suffer from today. We want to face our challenges and disappointment with grace; be creative and inspired; feel excited by a purpose; and live fearlessly through an intuitive, guiding wisdom. We want to love and feel loved, and realize genuine peace . . . but as much as we desire a significant spiritual breakthrough and long to know our Divine selves, we're still not making the commitment that will ensure our success.
We want the gifts, but we're not engaging in the practical work necessary to obtain them, so we remain stuck and more frustrated than ever. We
know
a lot about the power of Spirit, yet we aren't actually
experiencing
it. And we cannot do so through intellectual pursuits alone. In fact, we can only experience it through a deep, intentional
daily practice of connecting with Spirit.
When you truly make this connection, you'll realize that it's the most authentic, lasting power you have in your life. In this enlightening book, spiritual teacher
Sonia Choquette
will show you that even though you can't control the outside world, with the power of your Spirit, you
can
create a sense of purpose within that brings about
profound contentment and personal peace—no matter what is going on around you.
Review from
www.barnesandnoble.com
---