"Auralite 23 - The Stone of Awakening on Every Level"

Also known as Super 23, this quartz crystal was recently found in the northern areas of the Boral Forest in Canada. It is reported to contain up to 23 elements and minerals. Is is named for the Aurora Borealis.

Auralite-23 stimulates higher awareness and telepathic connection with one's guides and guardian spirits. It offers a direct and immediate link to what is called the "Magic Presence" in esoteric literature - the Self beyond the everyday "I" that knows one's life pattern and destiny, and which can help one live one's life as an expression of one's true spiritual purpose.

In the poetic mystical tradition, this aspect of oneself - so different that it seems like a Divine being beyond oneself - was known as the Beloved of the Soul. Union with the Beloved was fervently sought by many spiritual aspirants.

The connection facilitated by Auralite-23 is to that Higher Self, and although it does not guarantee full union without one's own efforts, it does offer an energetic link which greatly assists one's journey to the Divine within."

Reference - Robert Simmons
(Submitted by Lynn Pridmore)
---
RHODOCHROSITE

Rhodochrosite is the stone of the compassionate heart and it symbolizes selfless love. It assists in encouraging you to feel love for yourself. Rhodochrosite helps to provide the courage to look at those things that you have been unable to face previously... so that you can make changes in your life. It helps to harmonize the male and female elements... so if there is too much either female or male aspects, this energy will help to create a harmonious and balanced personality. Rhodochrosite is a powerful stone to aid emotional healing. Rhodochrosite is useful in meditation, as it helps you reach a state of joy and sublime happiness. Rhodochrosite may stimulate your inner child... and bring a deep childlike happiness and joy into your life. It aids you to bring deep forgotten memories to the surface for healing. Rhodochrosite opens the compassionate heart and fills it with unconditional love. It carries a very high vibration, opening the heart chakra for an infusion of Divine Love. Rhodochrosite is an excellent crystal for past-life healing. When placed over the heart, it gently disentangles the ties of outgrown relationships.

Rhodochrosite assists the heart and circulatory systems and removes irritants from the lungs. It helps to dilate blood vessels, relieve tension migraines and stabilize blood pressure. Rhodochrosite assists in reprogramming the etheric blueprint to that of a healthier pattern.

Resource: 101 Power Crystals by Judy Hall

(Submitted by Lynn Pridmore)
---
Labradorite


Labradorite ~ The Power of Spiritual Vision
Labradorite opens spiritual pathways and attunes you to your Soul's purpose in incarnating. It connects you with the greater part of your Soul so you can receive guidance from your Higher Self. Labradorite activates the Third Eye and allows you to access the highest levels of consciousness. It facilitates metaphysical working of all kinds. If you are inappropriately dependent on someone or something, Labradorite helps you detach and stand in your own power. Labradorite protects the Soul, no matter where it journeys. It also detaches thought forms from the aura. It is particularly useful if you are moving through challenging life conditions, as it connects you to your Highest Self's guidance and support.

Place Labradorite on the Third Eye to assist eye issues and migraines that arise from blocked psychic power. Labradorite assists in regulating metabolism, hormonal balance and relieves symptoms of PMS. It helps to reduce inflammation and protects against colds.

Resource: 101 Power Crystals by Judy Hall

(Submitted by Lynn Pridmore)
---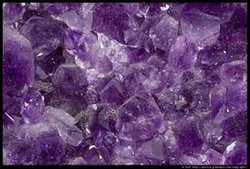 Amethyst
Amethyst Gemstone
meaning Crystalline quartz in shades of purple, lilac or mauve is called amethyst, a stone traditionally worn to guard against drunkeness and to instill a sober mind. The word amethyst comes from the Greek meaning "without drunkenness" and amethyst is believed to protect one from poison.
Power Stone
It is used as a dream stone and to help insomnia. Put an amethyst under your pillow to bring about pleasant dreams, or rub it across your forehead to offer relief from a headache.
Protection Stone
Ancient Egyptians used the amethyst to guard against guilty and fearful feelings. It has been worn as protection from self-deception, as well as a protection against witchcraft. The amethyst has long been used to open the spiritual and psychic centers, making it one of the power stones. It is also used as a meditation aid when worn as a necklace.
Wisdom Stone
The amethyst is known as the Bishop's Stone and is still worn by Catholic Bishops. The amethyst symbolizes piety, humility, sincerity and spiritual wisdom. It is thought the amethyst is the perfect stone to symbolize The Age of Aquarius.
Healing properties of Amethyst
Amethyst is a gemstone often worn by healers, as it has the power to focus energy. A healer will usually wear several pieces of jewelry with amethysts set in silver, especially an amethyst necklace. The person to be healed will have an Amethyst to hold while the healing is being done. The healer will place another piece of Amethyst on the area of the body in need of healing, the heart or lungs usually.
Amethyst is used for problems in the blood and in breathing problems. Amethyst crystal clusters are used to keep the air and life force in the home clean and positive.
Amethyst clusters, points or several tumbled Amethysts placed in a window that receives sun most of the day are very beneficial to use in healing and to heal negativity in the home. Place Amethyst clusters, points or several tumbled Amethysts in moonlight and everyone in the home will be feeling calmer. Using an Amethyst as a meditation focus will increase the positive spiritual feelings. Amethyst helps overcome fears and cravings. It also helps relieve headaches.
From
http://crystal-cure.com/amethyst.html
(Submitted by Lynn Pridmore)
---
---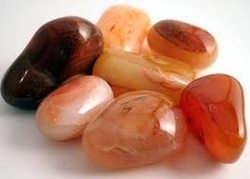 Carnelian
Carnelian is a stabilizing crystal, perfect for anchoring in the present. Its high energy helps restore lost vitality and motivation, and stimulates creativity for new pursuits. It improves concentration and removes extraneous thoughts in daydreamers, and during meditation. This stone also protects against envy, rage, and resentment - yours, or from others, and encourages a love of life. It is useful for overcoming abuse of any kind, helping you to trust yourself and your perceptions. Carnelian alleviates jealousy and possessiveness in relationships, and is helpful in overcoming sexual anxieties, and eating disorders. It is also beneficial with male mid-life crisis.
Carnelian, in its beautiful shades of orange, stimulates the Sacral Chakra, or Second Chakra, located below the naval and above the pubic bone at the front of the pelvis. It controls the flow of energy and is the center of gravity of the body. It is the center of the Life Force of the body, and controls the flow of information from the body to the mind and from the mind to the body.
Gut feelings, intuition, and other "non-linear" communication comes from this chakra. When it is out of balance the symptoms will manifest themselves as confusion, over dependency on others, repression of feelings, inability to feel joy, fear of sensuality or sex, and frustration. When it is in balance you have grace, feel pleasure in life, find you are flexible and can "go with the flow" and do so in good spirit.
Carnelian is a crystal of action, overcoming procrastination or indecision. It encourages one to stop waiting for dreams to appear, and stimulates the courage to embrace change and Divine Will to begin to make one's highest goals happen.
Carnelian encourages an awareness of the connection between the emotional state and the inner condition of the self. It promotes a spiritual energy conducive to awakening one's talents and perceptions of surroundings, and for offering love in return for love. Carnelian in shades of pink-orange, especially encourage love between parents and children.
When used in meditation, Carnelian assists in the understanding of how to bring a concept into being, and how to manifest it into action.
from
http://www.crystalvaults.com/crystal-encyclopedia/carnelian
---
---
Celestite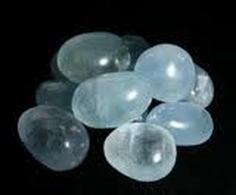 Celestite is a highly spiritual stone. It enhances connection to the celestial realms,
connecting one to the angels and all heavenly beings. Celestite helps to
increase spiritual development, and raise one's consciousness. Celestite promotes compassion for all of Creation. It assists in astral travel and dream
recall.


Celestite helps to quiet, center and expand the mind ~ bringing about inner balance. It dispels
negativity and increases positive energy. Relationships benefit greatly from Celestite, as it allows for clear thinking and honest reflection. It assists in conflict resolution and stimulates clear, articulate communication. Celestite is a stone of inspiration and creativity. Celestite also helps with reading comprehension.

Celestite is an extremely calming stone. It helps to relieve head and throat pain by holding a piece of Celestite on the afflicted area. Celestite relaxes stiff muscles, relieves insomnia and assists in detox practices. It benefits the thyroid gland and digestive system. Celestite also enhances eyesight and hearing.

Celestite benefits the throat, third eye and crown chakras.

Affirmation:
"I am a loving individual ~ constantly in communication with my guardian angels
and spirit guides."

(Submitted by Lynn Pridmore)

---
---
Rhodonite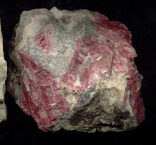 Rhodonite is a stone of compassion, love, generosity and altruism. It assists one in finding their true passion. It helps in discovering and developing one's hidden talents, and encourages one to use their gifts for the greatest good of all.

Rhodonite is a stone of power and positive universal development. It allows one to recognize, honor and utilize their personal strengths and abilities, thereby bringing about positive, effective changes for all of humanity.

Rhodonite is a stone of self-worth. It helps one find a stronger sense of self and a clearer calling to one's Divine Purpose.

Rhodonite allows communities, groups, families, etc. to work harmoniously and cooperatively with one another.

Rhodonite aids weight loss and detox practices. It stimulates and strengthens all glands and organs, especially the liver and kidneys.

Rhodonite is associated with the root and heart chakras. A powerful affirmation to state while meditating or working with Rhodonite is, "I call forth my hidden talents and abilities, and I use them lovingly for the benefit of all."

Resource: "The Book of Stones"

(Submitted by Lynn Pridmore)

---
---
Blue Lace Agate
A very cooling and calming stone, providing a sense of peace and
tranquility. A powerful throat healer, blue lace agate assists with verbal
expression of thoughts and feelings. Blue Lace Agate is a highly nurturing
and supportive stone. It gently offers hope, unity, tranquility, harmony,
protection, optimism, positive thinking, joy, truth, purification, promptness,
appreciation for nature, and improved energy flow.


Blue Lace Agate helps to strengthen and accelerate the repair of bones, thyroid deficiencies, throat and lymph
infections. It soothes red, sore eyes and any skin problems associated with redness and irritation. It neutralizes anger, infection, inflammation and fever.

(Submitted by Lynn Pridmore)
---
---
Magnesite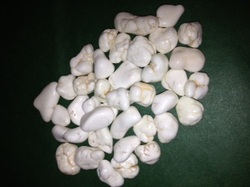 Magnesite is a relaxing, calming stone with a smooth vibration. When used in meditation, magnesite aligns the mind with the heart's desires. Magnesite brings about clarity and is a powerful manifesting tool. Magnesite assists in loving one's self and it boosts self-esteem. Magnesite may assist in contacting one's spirit guides and awakening psychic powers. It benefits the crown, third eye and heart chakras.

(Submitted by Lynn Pridmore)
---
---
Moonstone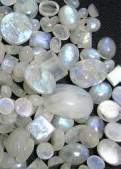 A stone for "new beginnings," Moonstone is a stone of inner growth and strength. It soothes emotional instability and stress, and stabilizes the emotions, providing calmness. Moonstone enhances intuition, promotes inspiration, success and good fortune in love and business matters. Moonstone aids the digestive system, assimilates nutrients, eliminates toxins and fluid retention, and alleviates degenerative conditions of skin, hair, eyes and fleshy organs such as the liver and pancreas. It stimulates the pineal gland and balances hormonal cycles, being excellent for PMS, conception, pregnancy, childbirth and breastfeeding. Moonstone is also beneficial to men in opening the emotional self.

(Submitted by Lynn Pridmore)
---
---
Red Aventurine
Red Aventurine has all the properties of aventurine plus it is a stone that promotes leadership abilities. It also helps one to overcome indecisiveness. It enhances creativity and allows one to see many possibilities. It can assist you when you want to lessen the negativity in your life.

(Submitted by Sue Freeman)
---
---
Apatite
Apatite This beautiful stone comes in several different colors. Pictured here is the "blue" apatite. It has a wonderful cleansing effect on the auric field. It can stimulate visionary states of consciousness and helps one to have lucid dreaming as well as to astral travel. It can be considered a stone of inspiration opening one up to those "aha" moments. It can attract "blue" beings...guides and angels who resonate with the color blue. Great stone to use with "record keeper" stones. It can also activate ones psychic abilities.

(Submitted by Sue Freeman)
---
---
Charoite

Charoite is known as the stone of transformation. It can assist one in overcoming fear. The changes it can help you facilitate are on a spiritual level. If you have a desire to change on a vibrational level, this stone will help you. It also assists with connecting to much higher realms. Charoite is great for helping stay in the present moment and not wander off into worry mind. When you are resisting change, or resisting a new idea, it will help you put things into perspective so you can let go of that resistance. It will assist in reducing any worry or stress you are experiencing. Put one of these under your pillow for a great night's sleep!

(Submitted by Sue Freeman)
---
---
Pyrite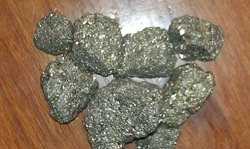 Pyrite is often called "Fool's Gold" because it shimmers so beautifully. It's name is derived from the Greek word for fire. Pyrite has many wonderful uses, including an increase in vitality, helping one overcome bad habits, overcoming anxiety and establishing new patterns for health. It can also assist with screening out negative influences, balancing polarities as well as increasing mental clarity and focus. This beautiful stone is a great find and pairs well with Hematite for some wonderful grounding of energies.

(Submitted by Sue Freeman)
---
---
Blue Lace Agate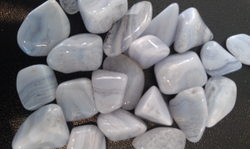 Blue Lace Agate has a transformational power as it can assist one in dramatically changing their ability to communicate and to speak your truth. It can also be extremely helpful in situations where one is fearful of being judged. Blue Lace Agate can help promote forgiveness. This includes forgiveness of self as well as forgiveness of others. It will instill a deep inner sense of peace. By placing Blue Lace Agate on your throat chakra, it can restore the energetic balance of the thyroid and para-thyroid glands which will assist with metabolic function. You can use Blue Lace Agate infused water to gargle with for sore throats throughout the winter. Just carying this stone will help you to feel relaxed and peaceful.

(Submitted by Sue Freeman)
---
---
Red Jasper
Red Jasper ~ Red Jasper is a beautiful colored crystal that helps you to deepen your connection to the Earth. It strengthens your root chakra and can be used to enhance ones memory, especially in recalling dreams. Another great use is to help promote the flow of chi. As a very grounding stone, it can help to rectify unjust situations. It wil help bring problems to light before they become too big. This brings about insights into some of your most difficult situations. Red Jasper makes a wonderful "worry" bead!

(Submitted by Sue Freeman)
---
---
Aragonite
Aragonite ~ This is an interesting crystal that is brown in color and has white through it. There are other colors of Aragonite as well. It is found in Arizona and New Mexico as well as other countries such as Spain, Morrocco and Mexico. Considered a great stone for earth healing. It can assist one with chaotic energies and help to soothe as well as balance them. It is excellent for increasing concentration and focus. Need to make a decision? This crystal can assist with the decision-making process! Aragonite can help you in meditation and your spiritual practices as well helping you to ground spiritual energies. It will help to increase the power of your prayers. Also said to boost self-confidence and self-esteem. It is also said to help those with Chronic Fatigue.

(Submitted by Sue Freeman)
---
---
Angelite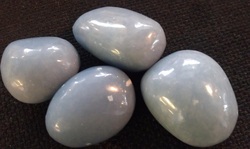 Angelite ~ Angelite is a beautiful blue color and is a stone of awareness for this new age. It represents brotherhood and peace. Angelite can be used to facilitate contact with the angelic realm. This is a great stone for healers and is quite powerful. Angelite will deepen attunement and also heighten one's perception. You can use it to help you in speaking your truth. When in need of peace, it is quite helpful at creating a deep inner peace. Angelite will also stimulate healing and enhances telepathic communication.

(Submitted by Sue Freeman)
---
---
Green Kyanite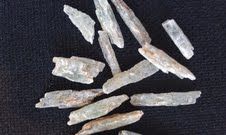 Green Kyanite is a powerful crystal because it forms a bridge between the person using it and nature. When one wants to work with Nature Spirits, it can create that bridge allowing for communication and connection. This is a crystal for connecting to truth. Whether you want to connect to the truth within your own heart or discern if someone is telling you the truth, you can access this information easily. It can also help you to live from your heart's truth so that you are authentic as well as staying true to you.

(Submitted by Sue Freeman)
---
---
Selenite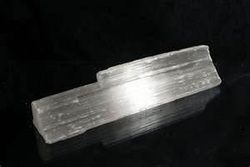 Selenite, a very powerful crystal, can be used for many different things. With four Selenite pieces (small or large wands best), you can place on in each of the outer most corners of your home, office or personal space (such as your desk), in order to create a grid which will protect and energize your space. Selenite is a crystal that never needs cleansing, and should never be put into water (as it will wear away after time). You can place in the sunlight or moonlight to charge it up. You can actually use Selenite to cleanse and charge other crystals as well! This crystal has a high vibration and brings in light. It will absorb negativity and help one connect to higher self and guides. Selenite also comes in other shapes such as Pyramids, Spheres, Towers and more! You often see if as a wand or shaped crystal but they do make a tumbled one as well.

(Submitted by Sue Freeman)
---